About – The Art of The Ride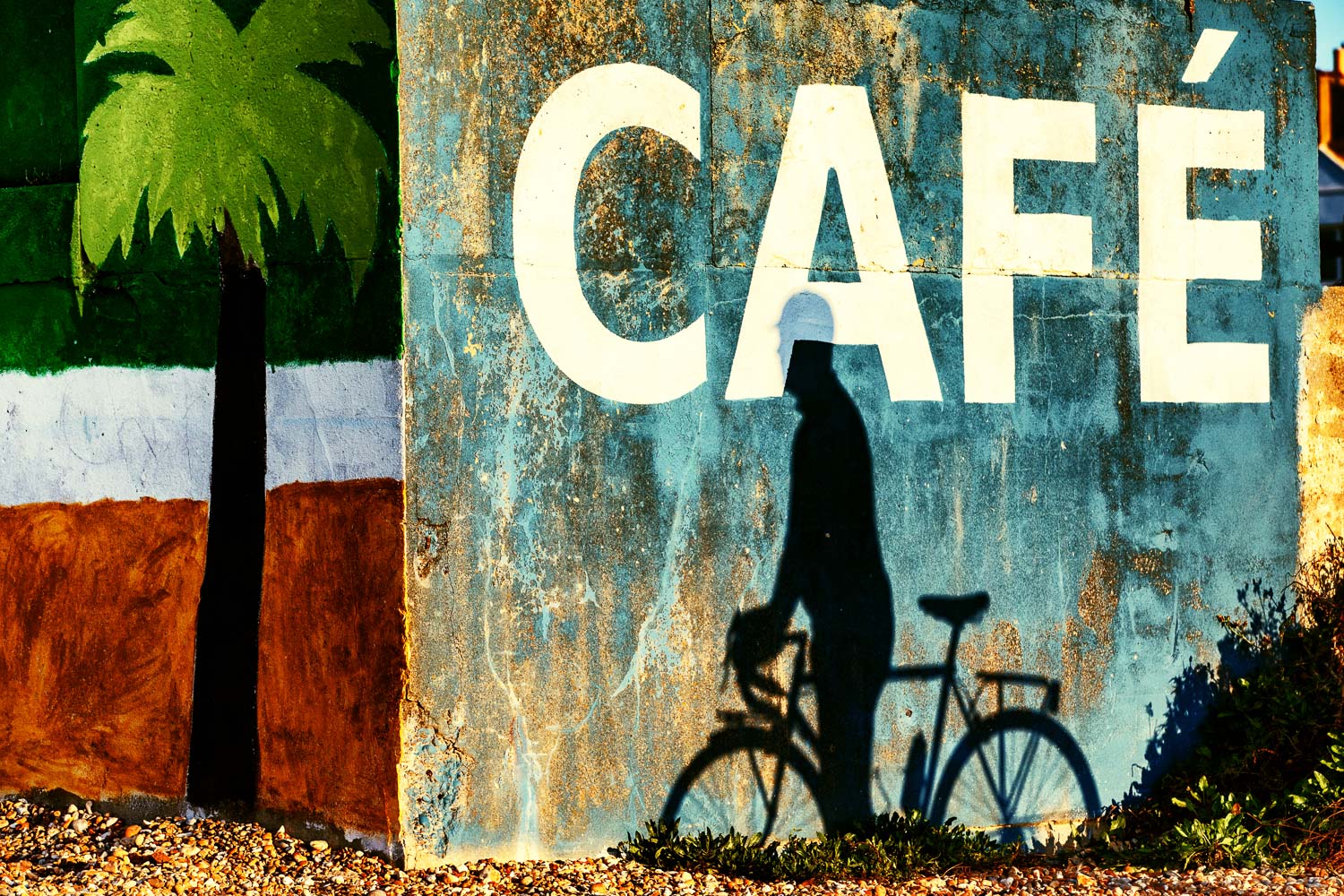 Bicycles and cycling have always been close to my heart. I love the freedom, lyricism and sense of jaunty expectancy that comes with pedalling a bicycle down an open road, near or far, and the simplicity and innocence suggested by a bicycle in the landscape. As a photographer I have tried to capture that visually – with nicely lit landscapes in which a bicycle or cyclist plays a central role. In this I appear to be something of an outlier, at least as far as photography goes. Artists regularly incorporate bicycles as motifs into their landscapes and streetscapes – The New Yorker, for example, has featured bicycles on their cover art more than a hundred times over the years – but photographers seldom celebrate the beauty and lyrical qualities of a bicycle ride, at lrst not in the same way.  Google cycling photography or look on Instagram and you'll see that the vast majority of cycling photography is about racing, or else static images of bicycles propped against walls or fenceposts, happy snaps by proud owners. Only rarely does artistic photography and cycling coincide.
Perhaps it's because of the complexities and challenges involved. Artists have the luxury of creating their own light and composition, putting all the elements precisely where they want them on their canvases, whereas a photographer has to work with available light and what is actually there on the street and a moving, human cyclist. It's not easy.
In all of these images I am both the photographer and the cyclist in the frame – a technical challenge that has been rewarding and one which requires an entirely new photographic skill set. It requires, besides a camera tripod and remote shutter release, a great deal of planning, an imaginative eye, infinite patience and an almost neurotic obsession with detail. Many takes are often required to get everything just so, and often I have to be on the road as early as 4:30am to ride to where I need to be when the light is right for the image I have in mind. 
I should add that although these images are necessarily of me, since I am both subject and photographer, I hope they will not come across as 'selfies'. That is not my intention.  I am a most reluctant model. My purpose here is to celebrate the beauty of bicycles on the landscape, not me as an individual tooling around on my bicycle. The cyclist in frame should be seen as A Cyclist, rather than anyone in particular.  
As a final side note, all of these images were shot within a twelve-mile radius of my home, giving the lie to the notion that one has to board a plane and fly somewhere exotic to experience a sense of travel. The world begins on your doorstep. Just climb aboard your bicycle and push off down the street and go.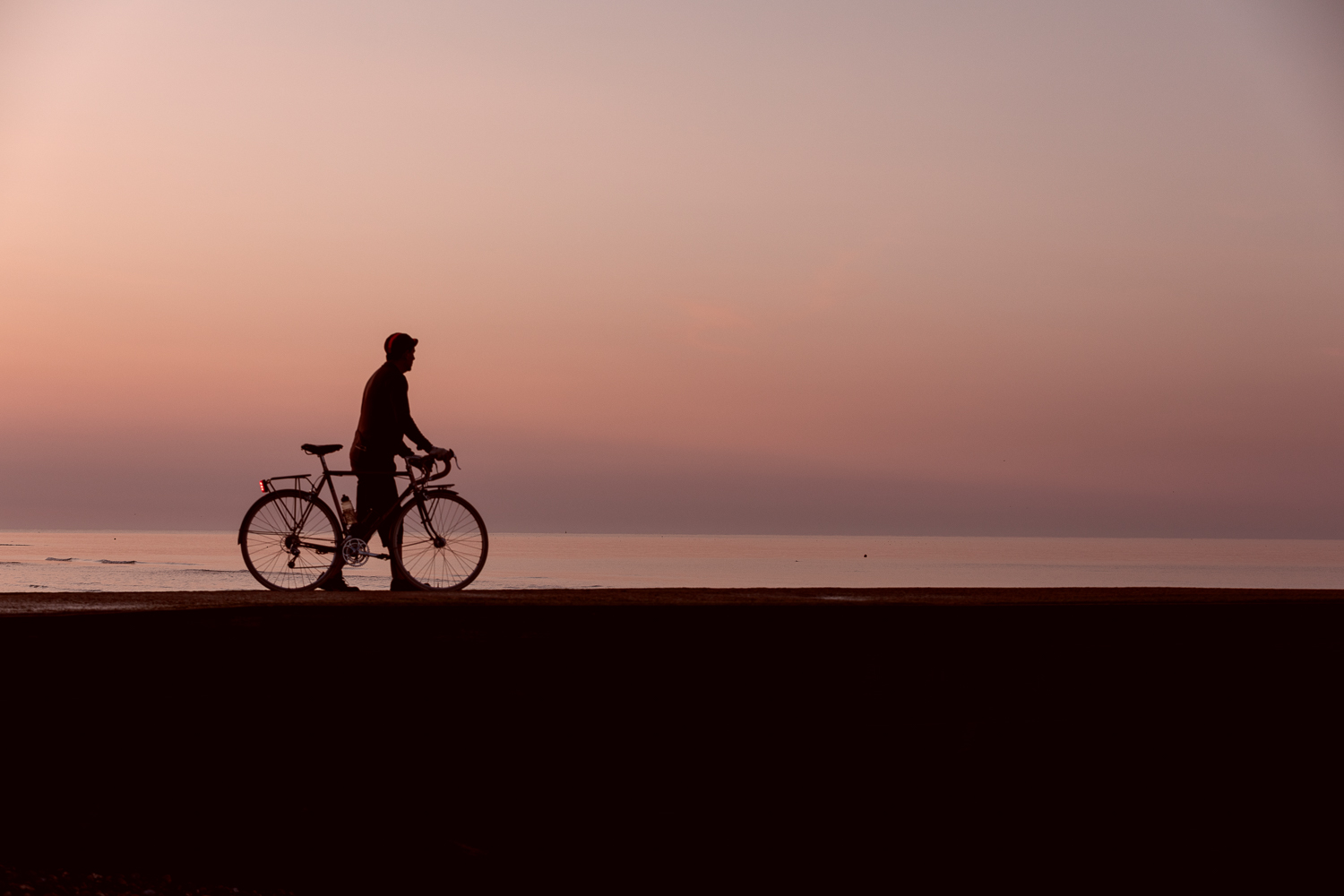 For more than thirty years now I have been travelling the world writing and photographing for some of the world's great magazines. For the past twenty-three of those years much of my work has been for the National Geographic Society, where I have been an award-winning contributor to National Geographic Magazine as well as to its sister publications, National Geographic Traveler and National Geographic Adventure.  I have written or contributed to several "coffee table" books for National Geographic's book division on subjects ranging from great railway journeys of the world to the history of photography at National Geographic. I wrote National Geographic Travellers guidebook to Australia and have written two travel books (both published by National Geographic Adventure Press) One was Cold Beer and Crocodiles, about a 10,000-mile solo bicycle expedition I made through the Australian outback. The other was Life on The Ice,  about my travels in Antarctica. I have also given lectures for the Society, taught travel writing and photography workshops on cruise ships and led more than thirty National Geographic-themed tours in places as diverse as Antarctica, New Zealand, Britain, Scandinavia and the Baltic States and South America.
My work has also appeared in Time, Newsweek, Nature, NPR's website, Conde Nast Traveller, Islands Magazine, Smithsonian, and Lonely Planet Traveller.  I have also undertake photographic assignments for corporations such as Coca-Cola and Toyota. Over the years my  career has taken me to more than 100 countries and to every continent.
As for my cycling chops, I have toured all over the globe. Aside from the aforementioned Australian cycling odyssey I have ridden from London to Istanbul, explored Zanzibar and the Swahili coast, ridden the length and breadth of Britain several times, followed the Danube, and in the course of various magazine assignments hired bikes and pedalled in  Fiji, French Polynesia, Tierra del Fuego, and Mauritius. Once I even pedalled  'around the world' – in under ten seconds! –  on a mountain bike borrowed from an astrophysicist while visiting the South Pole on an assignment for National Geographic. Nowadays I stik closer to home, riding  thousands of miles each year on the leafy lanes and city streets of Sussex and Kent. I have helped edit two books on framebuilding, have a London City & Guilds qualification as a bicycle mechanic and wheel builder and have contributed to cycling publications such as Adventure Cycling (in the US) and here in Britain, The Ride Journal.