King George V Colonnade, Bexhill-on-Sea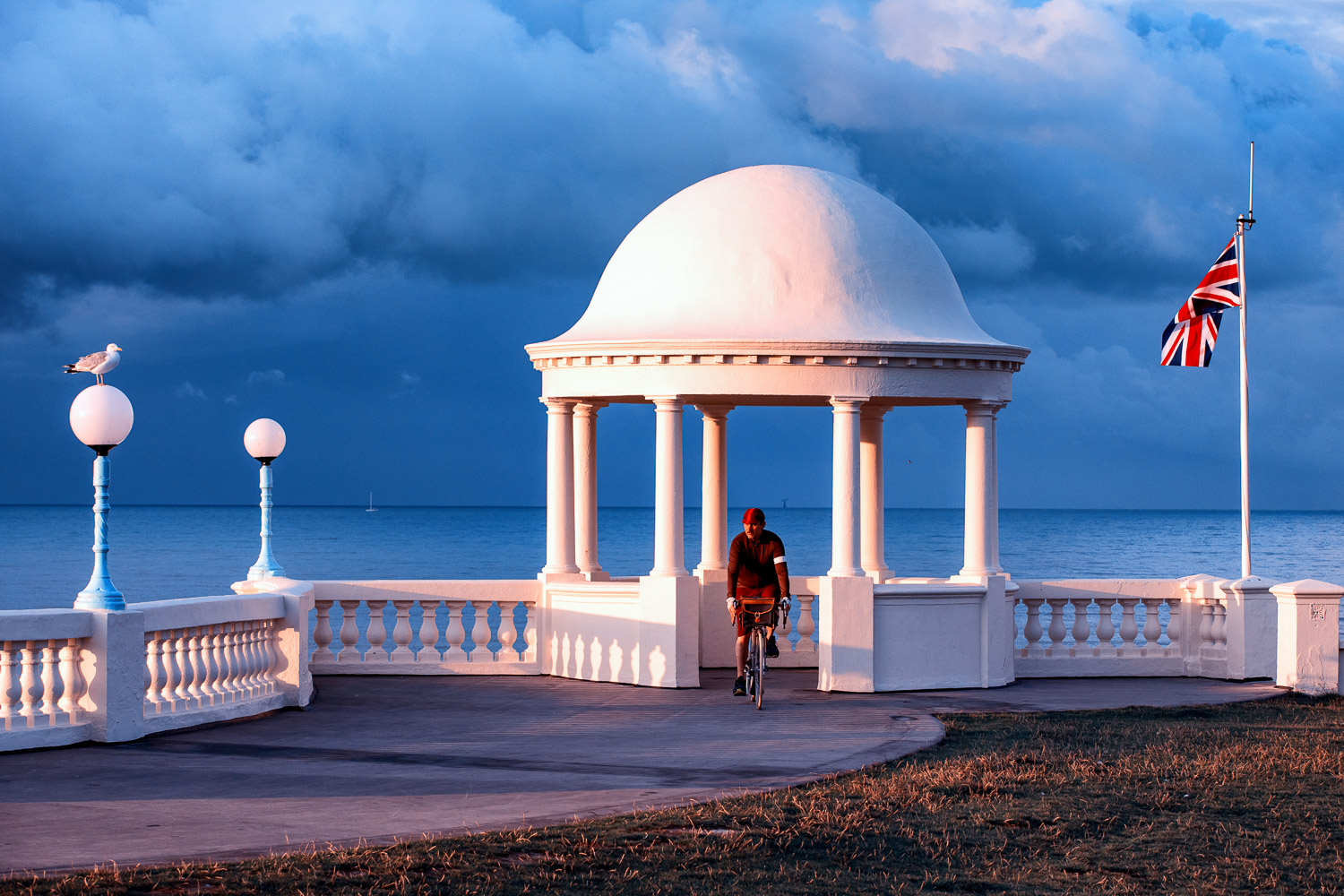 The King George V Colonnade is a rather elegant neoclassical structure on the seafront at Bexhill-on-Sea, built in 1911 to mark the coronation of the eponymous king who ascended the throne after the death of his father Edward VII. Like much of the seaside architecture from those glory days of the English seaside, it combines frivolity and hyperbole and Britishness in a way that never fails to fascinate me when I pedal past it on my morning rides.  I have been wanting to incorporate it in my gallery of cycling images for quite some time, but years of neglect had taken their toll and it was looking decidedly seedy and un-picturesque and so I just kept pedalling.
Happily, though, this summer the townsfolk at Bexhill gave the old monument a fresh lick of paint and when I saw its white domes, Tuscan columns and classical balustrades shimmering in the rays of the dawning sun, and the Union Jack a-flutter in the sea breeze, I pulled over and set up my tripod and had fun recapturing the sense of the English seaside back in the day, as well as the golden age of cycling, which largely coincided with it. Making up for lost time, I returned several times during the succeeding days and under varied lighting and arrangements of clouds explored its artistic possibilities and had a grand old time in doing it. And at five o'clock the morning, I had the magnificent old monument pretty much to myself – like having my own studio.
By varying light and angles, and subtleties of recomposition, I found I could recreate different moods and periods and places, everything from the late-Victorian/early Edwardian days of H.G. Wells' delightful turn-of-the-century cycling novels (The Wheels of Chance and The History of Mr Polly) to the Riviera of F. Scott Fitzgerald (or the Long Island of Gatsby, from the seaside solitude of Edward Hopper to the upbeat patriotic sense of those 1950s made-in-Britain bicycle advertisements. Later, back home, I tinkered a bit in Lightroom to give the images a stylised, travel-poster-like effect.
Below is a slideshow gallery of some of those images. Click on right of image to view the next.